Learn, Network & Grow has always been the mantra at ResellerClub presents HostingCon India, but we have always prided ourselves in one overarching theme – having fun! Read on to get a sneak peek at how you the incredible mix of business and fun at the event, but first, make sure you have registered!

Speakers at ResellerClub presents HostingCon India
Over the past 2 years we have set the bar very high by presenting sessions by speakers of international repute and this year is no different. Here are some of the speakers who you can meet and learn from at the event. This is only a preview and we will be announcing several more on our website soon!
Our schedule this year will comprise of Agenda Blocks & we aim to bring you multiple perspectives on key topics that benefit the industry. The agenda blocks will cover key topics including Digital Marketing, Domains, Web Infrastructure, Privacy, Security & Innovation!
Refer your friends to attend & Win iPad Air!
ResellerClub presents HostingCon is a knowledge sharing forum and what fun is knowledge if you cannot share it with your friends! Invite your colleagues & peers to attend the event and win big!
It's very simple:
Register yourself for the event here
You will see a referral code on your Profile Page once you complete registering. Share directly to Facebook & Twitter from there!
In case you miss it, you will also receive the Referral Code in your Registration Confirmation email!
This code will have to be added in the "Referral Code" field when your colleague registers!
Prizes: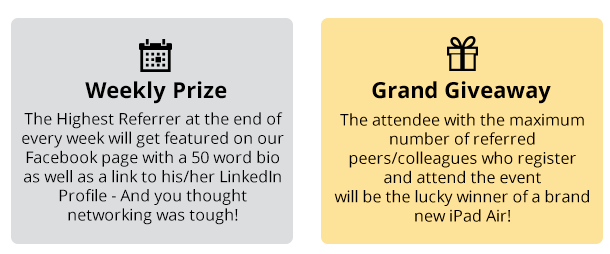 What are you waiting for? Register now and start referring!

Follow our Facebook Event for updates & announcements. Good luck in the referral contest!
We look forward to seeing you in Mumbai, India!
For all the latest HostingCon news and information, visit HostingCon – Premier Industry Conference and Trade Show for Web Hosting and Cloud Service Providers
The post Sneak Preview of ResellerClub presents HostingCon India appeared first on Web Hosting Talk.